Kraft Issues Recall Of Its Classic and Classic Cheese Oscar Mayer Wieners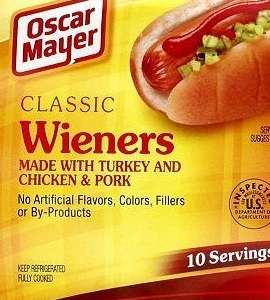 Kraft Foods has issued a recall involving 44,000 kilograms of its Oscar Mayer wieners because of package mislabeling.
According to the U.S. Department of Agriculture's Food Safety and Inspection Service, Kraft's Oscar Mayer Classic Wieners may actually have the "Classic Cheese Dogs" product inside them, a concern because of the milk inside the cheese, which is a known allergen and has not been declared on the label.
The agency said the labels are not correct and don't reflect the right ingredients.  According to the agency, a consumer learned of the discovery and notified Kraft of the issue. The next day, Kraft let the USDA know about the matter.
No adverse reactions have been reported to the Food Safety and Inspection Service.
Kraft Foods Group Inc. representative Joyce Hodel said the products were processed in a Columbia, Mo. plant.  The products were produced in early March, and have the number "Est. 537H". People who have questions regarding the recall can call the consumer relations department for Kraft at 855-688-4386.
The recall affects the following products:
16-ounce individual consumer packages of "Classic Wieners Made with Turkey & Chicken, Pork Added," with a "USE BY 16 Jun 2014" date and product code "044700000632."
Cases of 16-ounce packages that were distributed to retailers of "Classic Cheese Dogs Made with Turkey & Chicken, Pork Added, and Pasteurized Cheese Product," with "USE BY 16 Jun 2014" date and case code "00447000005300."
Online News Heard  Now
Short URL: http://www.onlinenewsheardnow.com/?p=3015