Doctors Still Encouraging Vaccine Recipients To Wear Masks, Social Distance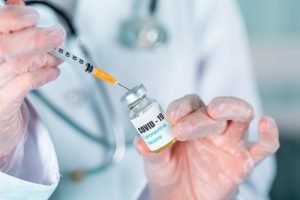 Although covid-19 vaccines are being distributed, people are being encouraged to continue practicing safety precautions such as masks and social distancing.
And, even if a person gets vaccinated, they are encouraged to continue the practices. According to Dr. Anthony Fauci, researchers want to know if the vaccines will keep people who have been vaccinated from spreading the virus to those who have not.
He said there is no conclusive data that shows the vaccine can keep the virus from spreading. Even if a person is vaccinated, it's possible for a person to spread it to others, Fauci said.
Clinical trials of the vaccine show the drugs are incredibly effective at staving off symptomatic infections in people who were vaccinated. As of now, the Moderna and Pfizer-BioNTech are the only two emergency vaccines authorized in the U.S. and are 95 percent effective in preventing symptomatic infection when the two doses are spread out three weeks apart.
Johnson & Johnson's vaccine is only 85 percent but is a one-dose shot.
Fauci, National Institute of Allergy and Infectious Diseases director, is encouraging people to accept any vaccine offered to them.
Researchers have been collecting information from people involved in the clinical trials to find out how much virus is in their nose after being vaccinated or if the number of cases is less where people show no symptoms while infected.
Fauci said this would mean the transmission rate is lower after being vaccinated.
Social distancing, masks and frequent handwashing have been important tools in the fight against Covid-19 spread. Although the virus is spread via respiratory droplets when a person talks, sneezes, sings, shouts or coughs, face coverings have been useful in preventing the droplets from infecting others.
The CDC has managed to administer 34 million doses to date but urges people to continue practicing all the health precautions.
Online News Heard Now
Short URL: http://www.onlinenewsheardnow.com/?p=4557