Growing Fears about Recession Causes World Stocks to Fall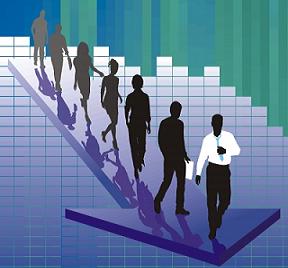 Global stocks slid down again on Friday with the growing fear that another US recession is about to happen.  There doesn't seem to be a light at the end of the tunnel when there are also ongoing worries about Europe's debt crisis.  This is also fueling acute fears spreading through Europe's banking sector.  Worries over the health of the continent's banks have been renewed when European banking shares hit a two and a half year low making crude prices fall and gold prices go up to about $2,000 an ounce mark.
The British FTSE 100 has losses of 2.1% to 4,987.  In Germany, the DAX dropped to 3.3% to 5,394.  In France, the CAC-40 went down to 2.8% to 2,989.  In Wall Street, the Dow futures went down 1.5% to 10,849 while the S&P 500 futures fell at 1.7% which is lower at 1,124.  When there used to be hopes on the second half of August to be quiet, all this fizzled with what transpired in the last two days.  Everywhere, there's market turmoil with many selling of risk positions.  Usually, the second half of August is a quiet period due to trading drying up, it's entirely different today – and it seems like the worst is yet to come.
Financial markets across the globe have wrestled with fears that a new recession is about to begin in the US.  As this fear loomed for several weeks, investors were further pushed into the brink of fear with the manufacturing survey from the Federal Reserve Bank of Philadelphia that came out Thursday.  If anything, it renewed the fears over US recession.  In Europe, a Franco-German summit failed to convince investors about their plans to fix the debt crisis.  Integration was promised but no concrete measures were ever provided like Eurobonds which actually would spread risk throughout the continent like wildfire because of the common currency.
Everywhere around the world, there are losses and shares dropping.  Oil prices continue their downward spiral coinciding with great fears over global demand and benchmark oil for the month of September was already down $2.76 to $79.64 per barrel, crude also fell 5.9%, $5.20.
Online News Heard Now
Image: Vlado / FreeDigitalPhotos.net
Short URL: http://www.onlinenewsheardnow.com/?p=870