Google's New PC-to-Phone Calling Feature Makes a Promising Start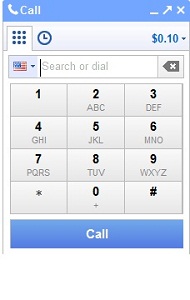 Google made a promising entry into the PC-to-Phone calling market as over 1 million Google Voice calls via Gmail were logged within 24 hours of Google launching the new feature.
The service was originally intended for US but reports indicate that it is also possible for users certain countries to enjoy the same facilities as US by selecting English(US) as the Gmail interface language.  This language setting is a prerequisite for installing the Google Voice plug-in and allows free calls within US and Canada, and cheap calls to many worldwide destinations.
Google's new feature did not come as a total surprise to Gmail users who had been using Gmail Chat and Google Voice, as there was expectation that Google would soon come with the VOIP capability of calling fixed landlines through its Gmail interface.
Google's entry is expected to present a stiff challenge to Skype,  currently the most popoular PC-to-Phone service, and other telecommunication providers offering landlines. With their large Gmail user base, Google has the channel to inch ahead in the market, but it is yet to be seen how well Google's new offering progresses once the initial buzz softens.
Short URL: http://www.onlinenewsheardnow.com/?p=442