Google releases beta of Gmail Priority Inbox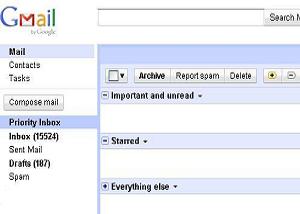 Google has released an experimental version of a new Gmail feature this week which is expected to help users prone to receiving large numbers daily emails in their inbox, organize and handle them based on priority.
The beta version is currently made available to selected Gmail users but it is expected the Priority Inbox feature will be gradually rolled out to the rest.
Priority Inbox has the ability to learn from the user behaviour, for example, email addresses user replies to or chats with, emails that user tends to opens, etc.  Once the new feature is enabled, any email arriving will be classified into one of three categories in the inbox – Important and unread, Starred, and Everything else.
We spoke to a user who had the opportunity of trying this new feature and the initial results are very encouraging. According to the user, Gmail already had the Filter and Label feature to classify and organize emails and users with smaller email volume may still use these existing features to organize themselves better. However the Filter and Label solution is not pragmatic when inbox is flooded with emails and this is where the Priority Inbox is expected to be the right solution. The user expressed the view that based on a day's trial, Priority Inbox showed reasonable accuracy for a beta, in classifying emails.
With the amount of emails we receive on a day always on the rise, Priority Inbox may be the panacea for the email overload experienced by Gmail users.
OnlineNewsHeardNow
Short URL: http://www.onlinenewsheardnow.com/?p=456