Glitches, Price Shock, and Scammers Plague Full Rollout of Obamacare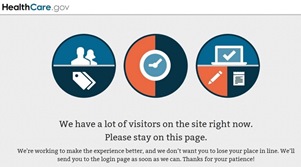 Open enrollment into Obamacare continues to be plagued with glitches while at the same time shocking enrollees as to how much it will actually cost. The confusion created because of these problems is also creating an open season for scammers.
The Affordable Healthcare Act, commonly known as Obamacare, went into open enrollment on October 1 concurrent with the U.S. Government shutdown. The main enrollment portal is the Healthcare.gov website.
The Healthcare.gov website continues to have technical difficulties and engineers are reporting that some of these problems are going take longer than expected to fix. These problems could mean that not everyone will be enrolled in Obamacare by the end of March 2014.
Dan Schuyler, who is a senior consultant at Leavitt Partners, made the statement that if some glitches in the system are allowed to continue for even just three or four weeks that many will not be enrolled by the March 2014 cutoff date. Leavitt Partners is a healthcare intelligence business that advises strategy for others in the industry.
Many who have managed to enroll are reporting that in some cases their premiums increased significantly while those whose premiums dropped realized much higher deductibles.
The Healthcare.gov Facebook page is inundated with comments from those complaining about not qualifying for government subsidies to help offset their premium increase and higher deductibles.
Amidst all the confusion as to how to enroll in Obamacare, there are many Americans still unaware as to how to go about complying with the law. This fact is creating an open playing field for scammers and fraudsters who prey upon the uninformed.
The U.S. Federal Trade Commission (FTC) is beginning to receive complaints about calls made to those who have not yet enrolled for Obamacare or cannot because of the technical glitches on the Healthcare.gov website. The complaints are related to calls people are receiving where strangers offer to get them enrolled for a price and then try to solicit bank information from them.
Lois Greisman who is the associate director of the FTC's Division of Marketing Practices reports that there have been over 1,000 complaints of scammers taking advantage of the Obamacare confusion.
Online News Heard Now
Short URL: http://www.onlinenewsheardnow.com/?p=2317