Facebook To Show Amber Alerts In News Feed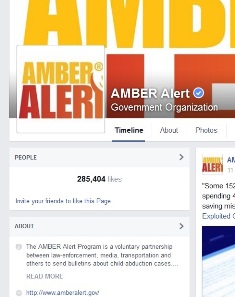 Facebook will start displaying all Amber Alerts the National Center for Missing and Exploited Children issues in people's news feed who live in the search area. These alerts will also show up on both the desktop and mobile version of the popular social network.
Amber Alerts give people information about missing children along with a picture of the missing child. These alerts began in 1996, being announced on radio and television.
Google and Bing have recently started adding Amber Alerts to their pages. However, Facebook gives people the chance to share Amber Alerts with their family and friends, increasing the number of people knowing about the search for the missing child. A live link will be given in the Amber Alerts that give people current data regarding the case.
Facebook said users were posting Amber Alerts on the website for many years. According to the popular social network, in a number of cases, children were located due to a post somebody seen on Facebook.
An 11-year-old girl had been found when a motel owner saw her picture from an Amber Alert a friend had shared with her on the website.
The company, in a blog post, said word-of-mouth efforts inspired the company to come up with a more systematic way of assisting law enforcement in finding children. It said the chances of finding a child who has gone missing increases when more people know about it and are looking out for the child. This is incredibly important in the first hours of the announcement.
The National Center for Missing and Exploited Children said since its implementation 19 years ago, over 725 children have been found through the Amber Alert system.
Online News Heard Now
Short URL: http://www.onlinenewsheardnow.com/?p=3716