Croatia Tops England To Advance In World Cup, Boasting About Team's Victory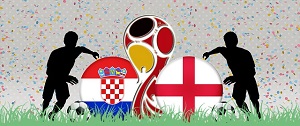 In a 2-1 win, Croatia crushed England's dream of winning the World Cup with an unapologetic and bold approach. And, it seems the players also had the same reaction. For Head Coach Zlatko Dalic, there's no real room for humility with Croatia's celebration of getting a spot in the world's biggest soccer game for the first time.
Vedran Corluka, who was in the English Premier League for five years, sent a snarky farewell message to the England Team
"Football's not coming home."
The phrase was a jab at the "Football's Coming home" phrase from the "Three Lions" song released in 1996 and has been used continuously in England during the last week with hopeful expectations that it would happen.
Luka Modric, the midfielder star for Croatia, said the Croatian team was annoyed by the over-confidence England seemed to have had. He said their biggest mistake was underestimating the Croatian team. Modric said they kept listening to everything the England team and fans were saying and said they were going to make them more humble at the end of the day – to have respect for their opponents.
Kieran Trippler with the England team score early with the free-kick, but Croatia came back to send the game into extra time and sealed the win with the strike from Mario Mandzukic.
Dejan Lovren, a defender for the Croatia team, said there was a mental difference.
The inexperienced England team, under its head coach Gareth Southgate, was expected to exceed expectations. The only person to think differently was Sime Vrsalijko of the Croatia team.
He said the perception was England had a new look, changing up their style, but he said the Croatia team showed everyone that they had yet to make any real changes.
When the Croatia bench took off to the fields, two of its substitutes looked like they accidentally ran over Jesse Lingard, a midfielder for England, while he sat down. They took off running and laughing.
Begrudging them the spotlight is difficult, as the Croatia team as some wonderful players like midfielders Ivan Rakitic and Modric who have helped bring the team to their latest victory.
The last time the Croatia team came close to the World Cup was in 1998 when they played France in the semi-finals and lost. The team will have a chance to play France again on Sunday.
Online News Heard Now
Short URL: http://www.onlinenewsheardnow.com/?p=4377