CDC Finds Young Adults Behind Latest Rise In Coronavirus Cases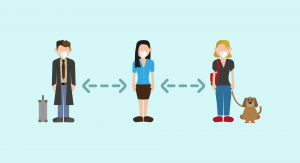 The Centers for Disease Control and Prevention released a report showing a 55 percent nationwide increase in coronavirus cases among the 18 to 22-year-old age range from early August through September.
The Northeast saw the largest increase.
According to the health agency, the increase may be the result of colleges and universities opening up for in-person attendance.
The CDC looked at both ethnicity and race data, which showed the weekly virus outbreak jumped 150 percent in white young adults or 48 per 100,000 to 120,000. However, other ethnic and racial minority groups either declined or stayed stable during this same time.
The CDC said about 45 percent of people 18 to 22 years old were in college/university, with 55 percent of those attending identifying as white. 71 percent of those individuals live with one parent, about half going to college and a third of college students are living with one parent.
According to the health agency, young adults usually ignore preventative measures more than any other group, putting them at a higher risk.
The CDC received case report information for close to one million people, with 16 percent being 18 to 22 years old. There was a 144 percent increase in virus infections in the Northeast. The agency said this is notable for the Northeast.
In the Midwest, there was a more than 123 percent increase in virus incidence, which saw a 65 percent increase in weekly testing volume.
The CDC said young adults who take preventive measures could help reduce the transmission of the coronavirus to their communities, including their own families.
Online News Heard Now
Short URL: http://www.onlinenewsheardnow.com/?p=4535