iPhone vs. Google Pixel: 5 Reasons To Consider The iPhone For Your Next Smartphone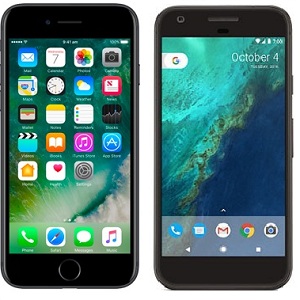 When it comes to phones, people often wonder what smartphone is better than the other. Many people love the Google Pixel, and for good reasons. However, the iPhone has a plethora of perks that outshines the Google Pixel.
Apple World
There are so many features in the Apple world that make it easy to get things done. With the AirDrop option, you can transfer videos and photos from your iPhone to a MacBook Pro or from the Pro to the iPhone. The iPhone can be a hotspot for the Mac laptop without going into the phone's settings. Once it's set up, the option to be used as a hotspot is there in its Wi-Fi network list.
You can use iMessage and Facetime with people who use iOS devices.
The Phone Is Much Nicer
While the Pixel and the Pixel XL are fairly nice, the iPhone is much better to look at. The design of the iPhone 7 is at least three years old, but it's still nice. It's got an array of colors for you to choose from – matte black, jet black, silver, rose gold and gold. The Pixel can only be purchased in silver and black, although the color blue was an option until it sold out within minutes.
It's Water Resistant
iPhone 7 is water resistant, which is a great front-end defense for water damage, not for taking underwater pictures. The Pixel isn't water resistant, which means it's more susceptible to damage from water.
It Comes With A Dual-Lens Camera
The iPhone Plus has a second lens that allows you to zoom in without affecting the image quality. How so? It offers an optical zoom, not a digital zoom. Optical zoom means the lens will zoom in so the pixel size is maintained and quality isn't affected. A digital zoom leads to picture distortion.
Better Operation System
The iOS software is a bit more premium-looking system though it can be a bit stale device after device. The Android OS is nice but doesn't have that premium feel to it.
Online News Heard Now
Short URL: http://www.onlinenewsheardnow.com/?p=4193